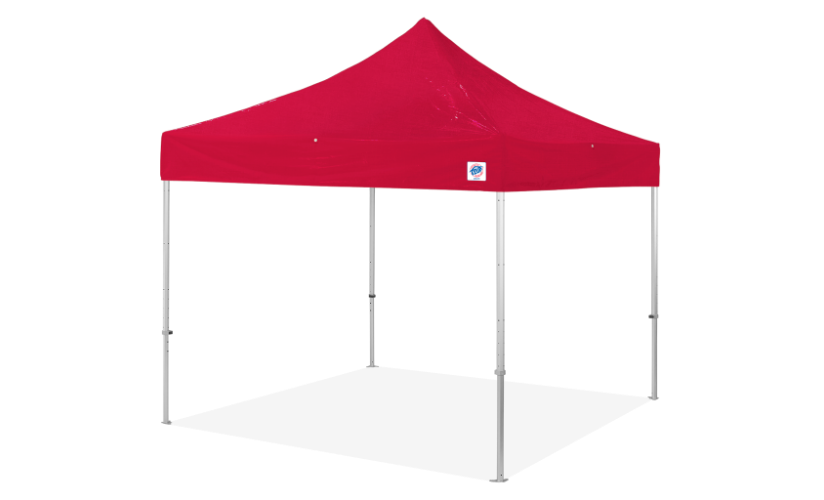 Revolutionize Your Outdoor Business With The E-Z UP Endeavor Vinyl Canopy
Are you thinking of expanding your restaurant to an outdoor dining and catering service, but without the cost of constructing a new space? But, how will you stand out among your competitors? At E-Z UP, we have the perfect solution for you; E-Z UP Endeavor Vinyl shelter tents.
Nothing beats watching your guests enjoy a haughty meal and see the satisfaction on their faces. However, getting the ideal shelter tent or canopy perfect for outdoor dining or catering business can be challenging considering all the safety risks inside a kitchen. But, with a high-performing Endeavor Vinyl Canopy, you can now focus on preparing amazing gourmet treats and satisfying your customers.
Meet the High-Performing Endeavor Vinyl Shelter
A tent was best used when hosting outdoor events such as parties and fests in the days past. And even then, you had to exercise extreme caution to decrease any risks and damages to the tent. Then, enter the E-Z UP Endeavor Vinyl Canopy, our strongest and most robust shelter. Ideal for all your outdoor events, the professional-grade vinyl top dramatically contributes to the much-needed safety from indoor and outdoor elements.
So, what makes this Endeavor Shelter special?
Fire Certified Flame Retardant Pop Up Tent
At E-Z UP, we understand the damage and losses fire can cause. That's why our experts took their time to develop a fire retardant professional-grade fabric. The flame-resistant canopy has been tested and certified by the State of California State Fire Marshall to ensure top quality. The shelter meets the CPAI – 8 and NFPA – 701 fire resistant requirements and the California fire certified flame retardant to top it all.
So, you can rest assured that the fabric will minimize the risk of fire damage. Nonetheless, in case of a fire, this fire-resistant popup tent will perform exceptionally well in reducing the spread of fire or the damage it might cause.
Waterproof Shelter
Mother nature is unpredictable, and weather conditions can change drastically from a perfect blue sky to clouds bursting into torrents. Moreover, your outdoor business must run, regardless of the weather. For these reasons, we have improved the waterproofing features by way of heat-welded overlapping seams to prevent water leakage or seeps through the fabric. No matter the weather, we guarantee the Endeavor Vinyl Canopy is waterproof.
You can focus on treating your patron to some delicious meals; even when it pours, the party won't stop. More fun and satisfaction means more revenue for you.
Enhanced Safety and Protection
The Endeavor Shelter was built with maximum protection in mind. We can't allow the sun's harmful ultraviolet rays to harm your loyal guests as they enjoy their meals. The waterproof shelter has UPF 50+ sun protection properties, the highest possible rating. This property enables the Vinyl Canopy to block 98% of the sun's UV rays, while the remaining 2% aren't harmful enough to distinguish the fun. Last but not least, the fabric is mildew resistant to ward off any mold that might threaten the health of your patrons or cause cosmetic challenges.
Additionally, the sun's protection feature allows patrons with sun sensitivity or existing skin conditions and children to enjoy their meals without worrying about the sun's damaging rays. Kaching! In comes more money for you.
Firm and Sturdy
Seeing that you are running a business, your venue must be firm and sturdy. It doesn't get any more robust and sturdier than with the Endeavor Vinyl Canopy.
Built with aircraft-grade aluminum, the lightweight frames have oversized legs to offer extra strength. For backup, the frames have heavy-duty foot pads for enhanced stability, while the bolt-on top provides additional structural support to the whole Endeavor Shelter Canopy.
Even if the weather suddenly becomes windy or stormy, the Vinyl Canopy will endure. You and your patrons can focus on enjoying their delicacies; the canopy will endure harsh elements and won't topple easily.
Easy to Set Up
Setting up the endeavor shelter is easy-peasy. We have made sure you spend less time assembling the canopy and give you and your guests more time to enjoy the event. Time is of the essence, and the auto slider® pull pins are grooved to allow quick lock and release. In addition, the auto peak® tensioner and built-in accessory hooks ensure an easy connection and attractive finish, and the E-Z UP truss washers will help you quickly set up the canopy. You can adjust the height of the canopy tent to your liking using the adjuster that gives you five height options, each 3 inches apart.
Setting up the Vinyl Shelter is fast, easy, and requires minimal labor so that you can save on labor costs. Spend less time, minimal effort, and few resources in the setup to allow you to spend more time attending to your guests.
Long Life and Durability
In the cold winter months, when temperatures fall beyond freezing and everything is frozen and cracking, the endeavor canopy is still standing without a single crack! The professional-grade fabric has been built to withstand temperatures of up to -40° and emerge without any damages. On top of that, the heavy-duty end caps and reinforced corners contribute to the Endeavor Canopy's long life and durability.
We have built this canopy to create memories for as long as possible. Pass the torch to others so the fun will last as long as the canopy.
Why E-Z UP?
We dominate the shelter tent industry. Our products are easy-to-use, instant solutions with high quality and revolution for all your events. Our prices are higher than our competitors, but our attention to detail and quality is on a granular level to offer unique products and services. As our loyal client, you'll enjoy;
Award-Winning In-House Printing
High-quality digital printing

excellence from highly acclaimed Specialty Graphic Imaging Association (SGIA) golden image award for digital printing excellence award winners seven years in a row.

In any event, our award-winning custom printing will give your Endeavor Vinyl Canopy exceptional signage and top-notch branding. Be it your brand image, a favorite quote, or your artistry masterpiece, we will print it onto the vinyl canopy for the entire world to see.
The E-Z UP Experience
100% satisfaction guaranteed

1-year warranty with free replacement parts on all professional products

Free artwork prep services and unlimited proofs
Speedy Track
Premium printing in premium record time

You receive your fully customized products and free shipping on all qualified orders in 24-48 hours.
You've shelved that outside dining business idea for long; it's about time you started it. Contact us and enjoy amazing deals on the High Performing Endeavor Vinyl Canopy.