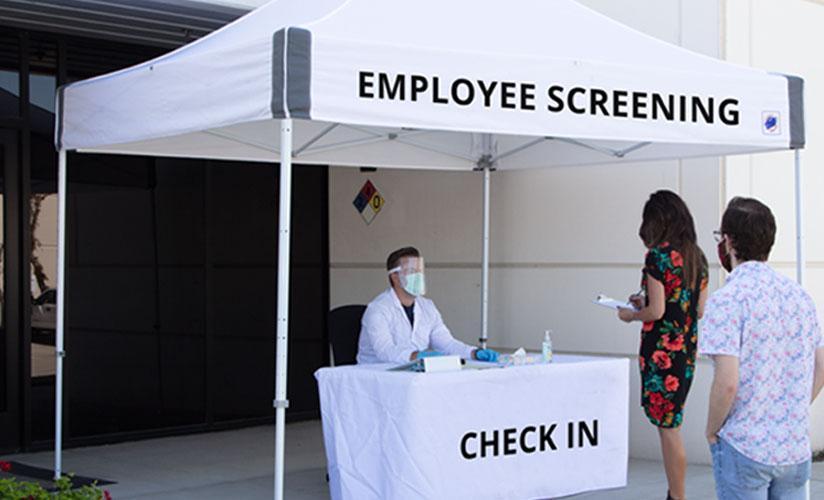 How E-Z UP Emergency Shelters & Custom Printing Can Help in Hard Times
The current post-COVID era has brought about significant changes in the way people run their businesses. Companies have to comply with the provided regulations while also following more safety guidelines to make the work environment safe for staff and clients. To adapt, most entities are shifting their operations to outdoor locations.
If the novel Coronavirus has impacted your operations in the same way, it means that you'll need to adopt new strategies. Investing in a durable and custom branded shelter alongside a range of business distancing solutions will ensure your business is compliant and well represented. Fortunately, E-Z UP® is here to help.
E-Z UP® has been a leading manufacturer of shelters and tents for years. What you may not know is that we are also an award-winning industry leader in the world of digital printing. Our client base is vast, serving diverse SMEs and Fortune 500 companies around the globe.
As a response to the current hard times, we have engineered high-quality, innovative solutions for all forms of businesses. Having been in the industry for decades, we have acquired state of the art technology and skilled talent necessary to ensure you enjoy 100% satisfaction. We have been consistent in revolutionizing our product ease of use, and our secure, reliable innovations are unmatched.
So, how do our Emergency Shelters, distancing solutions, and custom printing help during this challenging era? Here are the different innovations by E-Z UP® to help you maintain health and safety within the premises.
Reliable E-Z UP® Emergency Shelters
E-Z UP® is the pioneer of canopy creativity. Our 1983 invention, the Instant Shelter®, is one of a kind. We can help you customize it to serve different purposes other than being an emergency shelter. Throughout the ages, we have continuously delivered innovative canopies that are also easy to use.
Our tents are not only customizable but are also portable. Here's an overview of a few different varieties:
This is the perfect solution if you wish to dedicate a shelter to serve medical needs, address emergencies, or a simple mobile testing shelter. They are also the best seclusion room for patients, and several of them can form an isolation ward.
Looking to design a location for rapid deployment occurrences? This commercial kit should be your go-to option. It offers more privacy, yet is still visible. It allows you to regulate the temperatures within and reduces the risk of contamination.
Not just for recreation. This is no ordinary sidewall. It is built to protect from the sun rays while also including a mesh window to let in some fresh air. Furthermore, the material is silver coated for adequate UV protection. This accessory is ideal to pair with an emergency tent.
Getting back to normal business operations in these hard economic times is not easy. You may have to brace for lower revenue streams. But most importantly, you must pay attention to social distancing recommendations. As such, you need a set of distancing solutions that ensure safety within the premises while also reinforcing your brand image.
Here are some E-Z UP® health and safety distancing solutions that you may require:
This E-Z UP® brainchild comprises a unique set of items such as a custom branded canopy and table cover, a director's seat, and a blade flag (11'). This package is ideal if you wish to take your services outdoors.
Our portable safety shield is made of vinyl and can help maintain safety standards in different ways. The item allows you and your staff to interact with your clients while maintaining a safe distance.
You can also choose from our massive variety of custom window clings to help you communicate crucial information and directions to your clients. You can also use the items to maximize your branding space.
Our custom removable floor decals come in different sizes and designs. We can help you choose one that fits your business and complete the branding process to match your needs and business theme.
If you've changed your business location and opted for an outdoor spot, it would be proper to notify your clients of your new spot and direct traffic here. We offer our quality flags in diverse designs, and the standard material is durable nylon fabric. The varieties include Blade, Blade Plus, Tear Drop, and Blade Plus with a Tail.
Similar to the flags, you also need to direct your clients in an eye-catching way, and that is where our hanging banners come in handy. They come in diverse designs and shapes and may serve different purposes.
The Takeaway
E-Z UP® is an industry leader known to offer a range of quality products. From emergency shelters to distancing solutions like floor decals, to award-winning custom printing services, there's no limit to the solutions we offer. So if you are looking for a reliable expert to design your window or floor clings, we are the ones to take care of that.
Throughout the years in business, we've acquired sufficient knowledge, incredible talent, and adequate resources which has gained the trust of a large client base, including Fortune 500 companies and small and medium enterprises alike.
As the front-runner in digital printing, we guarantee a great experience and unmatched professionalism. So you can always be sure of an expert touch when you let us customize your emergency shelter tent or medical tent. Thanks to our digital printing excellence, we are a seven-time winner of the prestigious SGIA Golden Image Award.
The E-Z UP® experience assures you of 100 percent satisfaction. Even better, for a whole year, you can get replacements for any professional product at no extra cost. You are also entitled to unlimited proofs and artwork prep services for free.
Our custom printing service is fast-tracked so you can be assured that the work will be completed within the agreed time. The printing is done in-house so when you order a fully customized product. If your need is urgent, we can rush ship within 24 – 48 hours.
With our large variety of emergency and business distancing solutions, we are your one-stop-shop to help your business in these hard times. Seek our emergency shelters & custom business distancing solutions today.