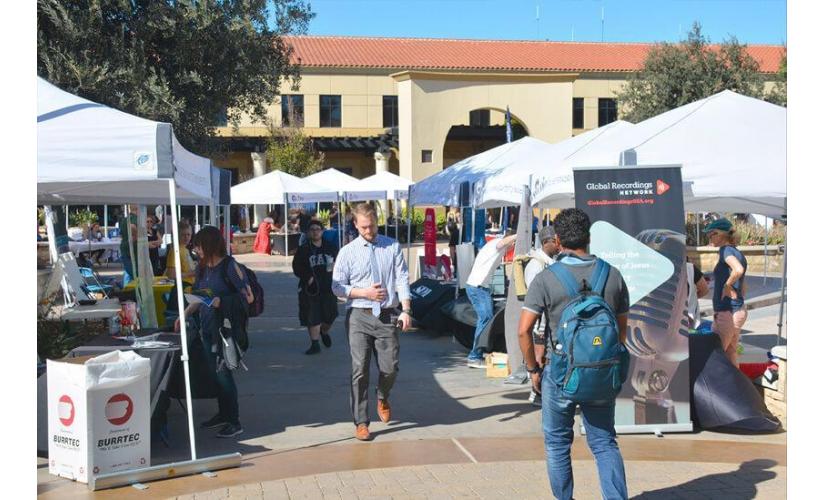 Why Schools Need E-Z UP Custom Canopy Tents
As schools manage the complex realities of welcoming students during the COVID pandemic, they need access to quality, dependable supplies to help shift activities outdoors. Even schools that are opting to operate remotely require safe outdoor spaces for some activities. As a leader in the industry, E-Z UP has been helping create efficient, durable, and custom tents for schools. Beyond just the basic needs, E-Z UP offers award-winning printing and custom graphics to make outdoor shelters for schools welcoming and functional.
E-Z UP helps schools maintain their operations with highly-durable canopy tents that provide shelter for both students and staff. E-Z UP's fast turnaround time, custom printing capabilities, and wide range of quality products are perfectly suited to the challenges schools are navigating this year.
Personalized School Tents
Schools need outdoor shelters that are easy to set up and take down as needs shift, and new configurations are required. They need sturdy shelters to keep students, faculty, staff, and visitors comfortable and protected while picking up supplies, getting screened, or attending school activities outdoors. And they need to be able to customize their outdoor spaces to make these new routines flow as smoothly as possible. Premium features like sidewalls and custom printing can help schools create spaces that inspire school spirit and fit every situation. Here are some of E-Z UP custom tents for schools that can be used to create functional outdoor spaces:
School Canopy Tents For Supply & Curriculum Pickup
Many students will be learning remotely for the foreseeable future. However, they and their families may still need to come to schools in person to pick up educational materials, forms, and supplies. E-Z UP outdoor shelters allow schools to facilitate easy supply handouts to keep students, families, and educators safe. Custom graphics and floor decals can help facilitate students to pick-up spots for different grade levels and families.
Food Distribution
It's become clear throughout the pandemic that schools aren't just educational facilities; they provide many other community services, and one of the most important is food service. Many school dining services organized ways to distribute food to students even when schools had to shut down, whether through onsite pickup or drive-by setups.
Outdoor shelters for schools can create a space for efficient onsite food pickup or a preparation and logistics area for organizing deliveries. E-Z UP outdoor shelters also provide protection from weather elements when food is involved.
Outdoors Shelter for Schoo
l Classes
For schools with any amount of in-person learning, outdoor spaces are particularly important. School canopy tents can become sturdy, private outdoor classrooms, allowing students to continue learning with as few disruptions as possible. E-Z UP's custom graphics can create personalized tents to help schools arrange clearly labeled learning spaces to ease the new normal transition. E-Z UP durable tents will keep students and faculty safe from different weather conditions, and optional sidewalls can increase privacy and reduce distractions.
Schools may need to increase or decrease the number of classrooms throughout the year, so shelters that are easy to move, put up, and take down are key.
Screening & COVID Testing
Depending on each school's safety policies, they may need to implement screening or testing protocols for students, faculty, and staff. For safety, those screenings should take place before entering buildings, and outdoor canopies will allow all school community members to be screened or tested in a comfortable environment, no matter the weather. It's also important for schools to canopy tents to have plenty of space for those waiting to be screened to maintain social distancing.
Distancing and Crowd Management
Schools will need to develop ways to manage crowds during the school day and for special events. Whether it's students waiting to come in first thing in the morning, or others waiting for their ride home at the end of the day, sheltered outdoor spaces will help create safe waiting areas where students can stay distant. Schools may hold a larger space for students for spirit events or assemblies with the right outdoor solutions.
Extreme Weather Safety
If students and faculty need to be outdoors during extreme heat, wind, or even light rain, the right shelter and sidewalls will make all the difference in providing protection and comfort from weather elements. E-Z UP custom canopies with sidewalls keep students and staff safe with a UV-protected, and wind-tunnel canopy tents providing a safe educational environment.
Emergency Preparedness
From fire drills to other emergency preparedness actions, schools need ways to safely move students around without compromising COVID policies. Having outdoor tents ready for drills (or in the unfortunate case of an actual disaster) will ensure that schools are truly prepared for any emergency.
Still Wondering Why E-Z UP for School Canopy Tents
Inferior canopy suppliers can leave schools struggling with outdoor shelters that break, are a hassle to put up and take down, or don't arrive in time to meet changing needs. E-Z UP gives schools the confidence to adapt to changes, knowing that durable, personalized solutions are easy to find.
• Free replacement parts on professional models
• Complementary artwork prep for customized shelters
• Design services
• Excellent, award-winning digital printing quality
• Overnight printing
• No minimums
• Canopy tents and pop-up tents can be personalized with the school's mascot and colors to keep school spirit high
• A range of canopy tents sizes from a 5X5 shelter to an expansive 16X16 shelter for maximum covered learning space
• All shelters are equipped with an easy-to-use carry bag
Let us help you navigate the changes all schools are facing this year. Find the right custom canopy tents for your school, along with accessories and supplies you need to create a safe learning environment.