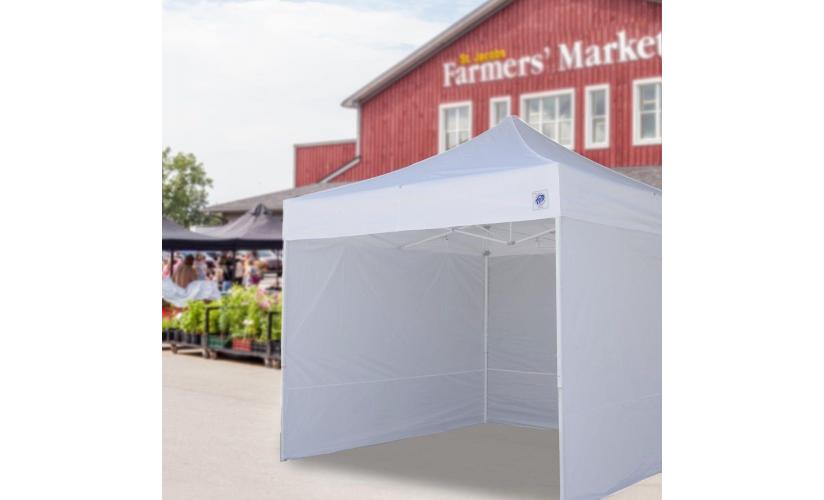 Vendor Tents for Farmers' Markets | Pro Tips & Staging Ideas
E-Z Up has the finest food vendor tents on the market and is perfect for use at state fairs where you might need to protect yourself from the sun or the rain. No matter what size or style of shelter you need, E-Z UP has you covered with their variety of portable shelters perfect for use as a food stall. All E-Z UP tents feature outstanding durability and lasting reinforcement and can be customized to make your food festival stall ideas come to life. E-Z UP tents are useful for food vendor tents and can be reused for trade shows, curbside pickup, backyards, etc.
All E-Z UP shelters are portable and come with a heavy-duty bag, so you can easily store and transport your food stall. They also come with a durable spike kit to ensure your food stall stays in place. You can also customize your food vendor tent with a business logo, message, brand name, and color. This guide will tell you how E-Z UP can help your food stall ideas and make your business a success.
How EZ-UP products can help Food Festival vendors
Food Vendor Tents are a significant part of any festival, but it can be hard to stand out from the crowd with all the competition. EZ-UP offers a variety of food festival stall ideas that will enable you to not only be comfortable in any weather but catch the eye of customers passing by.
Flags:

Customizable flags can not only be used to identify your mark points but can help you advertise your goods. E-Z Up offers corner flags with your logo perfect to put around your shelter. Long slim blade flags that will catch the eyes of festival-goers and teardrop flags to advertise your wares.

Shelter banners:

Shelter banners make the perfect addition to any food stall to display a business name, label where lines start, and advertise your best-selling food product. They come in all shapes and sizes and can always be customized to suit your needs.

Chairs and tables:

Our portable chairs and instant tables give you a perfect workspace to display your goods. All chairs and tables fold up and are easily moved from your home to the Food Festival and back.

Shelter tents, rail skirts, and sidewalls:

E-Z UP shelter tents started it all. Available in various shapes and sizes, along with rail skirts and sidewalls, give you plenty of privacy and shelter from the elements while enabling you to cook and serve your food.

Event lights:

Event lighting is perfect for Food Festivals in the evening or if you need to light your vendor tents in gloomy weather. E-Z UP event lights are easy to use and are easily put up and take down like all our products.
EZ-UP is the brand that started it all!
E-Z UP knows what it takes to make food festival stall ideas come to life with quality innovation in mind as the industry leader. We pioneered shelter tents and are the standard-bearer when it comes to shelter tent use and technology. Our attention to detail, custom in-house printing, and fantastic customer service have made our products highly trusted and used by many Fortune 500 companies. When organizations need solutions for food vendor tents, E-Z UP is the go-to vendor for the best-customized food stalls suited ideally to their needs.
Why choose EZ-UP for your portable shelter needs?
The key to E-Z UP's success is doing everything in-house. That means that no matter how you want your vendor tent customized, E-Z UP can meet your needs and design a canopy perfectly tailored for your specific situation. So what kind of customization does E-Z UP offer?
Award-winning in-house printing:
E-Z UP ensures quality, excellence, and quick, efficient customization for any project by printing all designs in-house. E-Z UP is known industry-wide for being the leader in digital printing excellence and has won the SGIA golden image award for digital printing seven years in a row! So let your Farmers' Market vendor tent be as unique as you are with various styles and options.
Your job is done quickly and precisely!
E-Z UP has worked hard to get their printing process to a rapid, seamless system to do your job correctly and quickly. Offering premium printing in premiere time because time is money, and you do not have money to burn. Once you have an idea of the direction you want your project to go, E-Z UP will have your shelter fully customized in 24 to 48 hours.
Why E-Z UP beats the competition:
E-Z UP offers best-in-class shelter tents. In addition, E-Z UP is the premier vendor for Food Festival stalls and equipment for curbside pickup.
The fact that E-Z UP offers all this customization with a 24 to 48-hour turnaround on your project symbolizes hard work, organized teamwork, and commitment to save you time and money. E-Z UP offers award-winning custom printing to ensure you have the proper signage for your farmers' market vendor tent. All parts are guaranteed for one year, are made of highly durable materials, are rust-proof, and are professional-grade.
No other company can touch E-Z UP's professionalism, speed, or customization options if you need a custom food vendor tent, a portable canopy shelter, chairs or tables for the Food Festival, or a roomy gazebo tent.