Freedom83™
The Freedom83™ is can be customized to accelerate your marketing and highlight your brand's commitment to U.S. production. Superior textiles from U.S based mills, expert design resources, and our proprietary digital printing — all executed in our Norco, California headquarters — will faithfully represent your brand's identity and values during years of consistent use.
COVID-19 Shipping Update
Due to delays with FedEx, some areas may experience extended delivery times for ground shipments. We appreciate your patience and understanding during these uncertain times.
FREE Shipping on all orders over $199
Free shipping via FedEx Ground. Online orders only. Here's how:
Add up to 10 items to the shopping cart
Proceed to checkout
Add your billing/shipping address
Select the FREE Ground Shipping option
Select Payment option
Select Place Order

Back in 1983, while setting up shade for a weekend boat race on the Colorado River, 21-year-old Mark Carter realized he was missing a few parts to the team's piece-together canopy. With temperatures over 110 degrees and no shade, it was the moment that Mark envisioned a portable pop up shelter that required no loose parts, and could be set up quickly and easily.
The next day, Mark began working on his idea in his parent's garage in Southern California. Over the next few months, he built and refined prototypes and invented the first Instant Shelter®.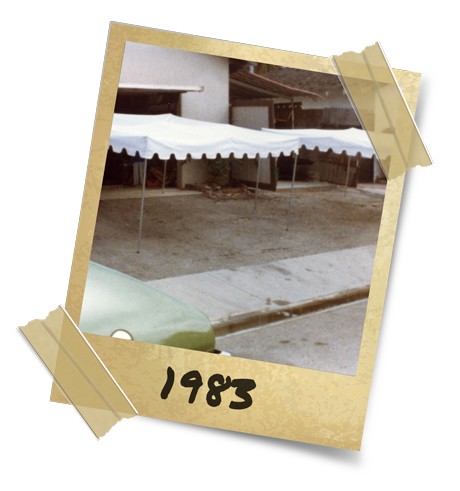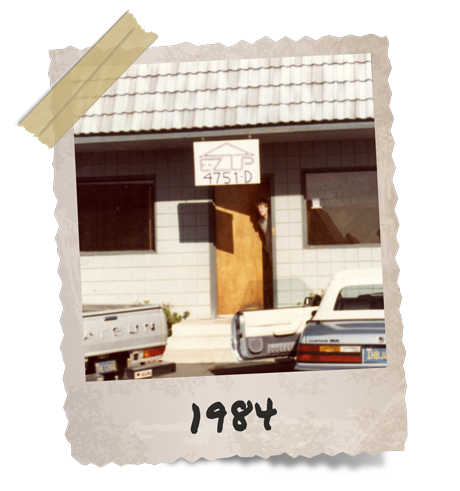 As demand grew for the Instant Shelter® Mark outgrew his parents garage and was introduced to Brad Smith by a friend. Brad offered Mark space in his warehouse and used masking tape on the floor to section off an area for E-Z UP. As the E-Z UP business continued to grow, they moved the tape line to provide more space, eventually removing the tape entirely and becoming partners.
The combination of Brad's international business and operational expertise combined with Mark's ingenious invention of the Instant Shelter® created the perfect partnership and the foundation for E-Z UP's success.

E-Z UP® Instant Shelters® became part of the American landscape; whether it was used for camping, on vacations, at the beach, or to a sporting event, E-Z UP® Instant Shelters® were popping up everywhere. Demand for Instant Shelters® grew rapidly. E-Z UP became the most recognized name for personal and professional use, and therefore was made available in major U.S. and International retail chains.
In order to meet customer demand, E-Z UP built manufacturing and distribution facilities worldwide. Including, the 125,000 sq. ft. headquarters in use today in Norco, CA., and several offices in California, Netherlands, and Hong Kong. E-Z UP now serves over 100 countries and our award winning digital printing has been trusted by 3 out of 5 Fortune 500 companies, including 9 out of the top 10.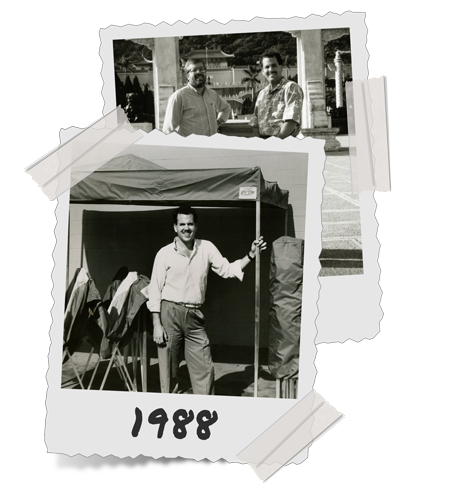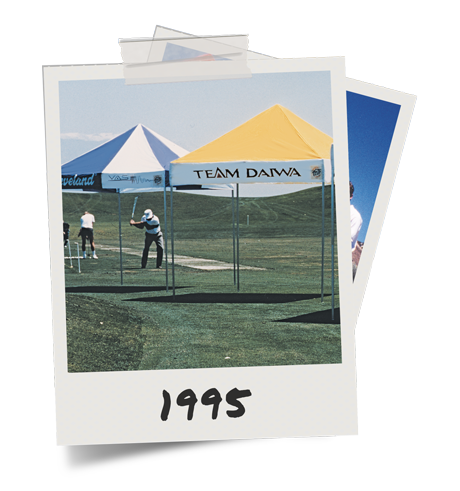 Some of the driving forces contributing to E-Z UP's success include absolute commitment to quality, from the materials, the craftsmanship, and dedicated employees that culminate into the finest shelter products on the market today. Teams of quality control professionals ensure that each shelter meets high standards of printing and manufacturing quality.
Today, digital printing on fabric is the preferred solution, allowing customers to use more complex graphics to promote their brand. Award winning E-Z UP printing process produces rich and vibrant graphics that last for years.

From the invention of the original flat top in 1983, to the peak top in 1986, we continue to use the highest quality materials to perfect ease of use of the Instant Shelter®. E-Z UP is passionately driven by innovation. The latest product line has redefined the industry once again, with a new line of vibrant colors and advanced features.
After more than 30 years some of E-Z UP's greatest accomplishments include employees celebrating 20 and 30 year anniversaries, customers still using a shelter made over 20 years ago, and thousands of awesome stories told all the time about how E-Z UP products are used in personal and professional life.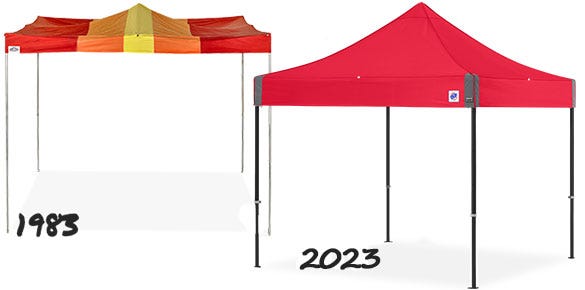 E-Z UP is eagerly working on the next evolution in shelter technology and is passionate about delivering to you the best in innovation and quality.
Stay tuned for the next chapter of the E-Z UP Story.