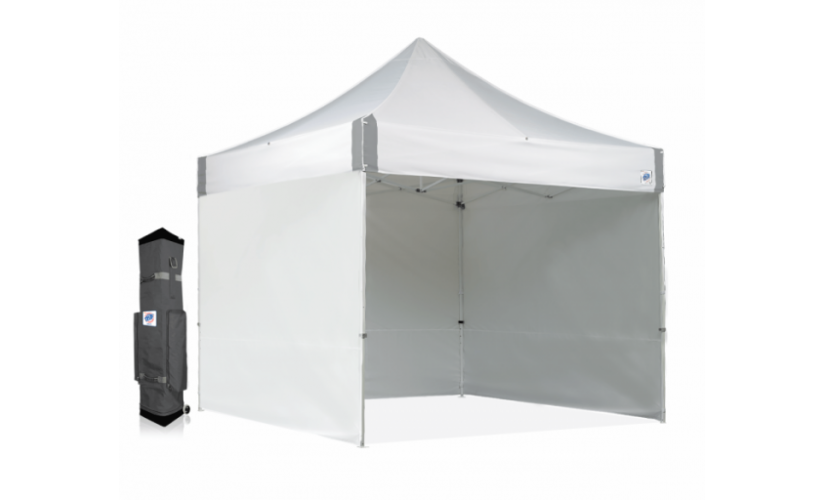 What Types of Pop-Up Tents are Best for Festivals?
Your business has perhaps spent considerable time selling wares at farmers' markets or other festivals in recent years. Being outdoors, you probably encountered some significant problems with the weather as just one of many.
Not only can inclement weather ruin your products, but it also eliminates any chance of customers visiting your booth. And the sun can bring just as much damage, including to your products and your skin. You need a quality tent to bring protection and superior branding to your business.
Many business owners are now using pop-up tents as a more convenient and easily transportable option. A pop-up tent is often more affordable for one thing, though also easier to set up and disassemble. Pop-ups are so popular that most festivals nowadays require you to have at least a 10x10 or 10x20 pop-up tent.
You can get top-tier Vantage and Eclipse pop-up shelters at competitive prices at E-Z Up, entirely personalized.
Tents with Safety Protection for Outdoor Festivals
It's a good idea to look into tents with safety shields to help protect you and visitors from the elements. Especially during COVID-19, a safety shield is an excellent accessory to use on your tent for health protection while talking with visitors.
Any type of tent protecting from the top and sides is worth your investment. Sometimes this works just as well for indoor festivities to create a more immersive environment for your brand.
Tents with Pyramid-Shaped Tops
A pop-up tent allowing different shapes at the top is something to consider when presenting your logo. A pyramid top is one of the best because it gives you plenty of room to add customized graphics.
These are also easier to spot at overly crowded festivals like concerts or art fairs. You always want your business to stand out above the fray when crowded in with dozens of competitors.
E-Z Up offers many customized pyramid shelters that give you extra room for everything from logos to mottos and colorful images. The pointed top allows for added height, so your branded message stands out in the crowd.
Tents for the Beach or Parks
Festivals at local parks or beaches can lead to severe exposure to natural elements.
Selling products on a beach is especially risky without having a good, protective tent. E-Z UP offers amazingly lightweight and portable beach tents with UV protection. You'll even have enough room in these tents to place tables and chairs to showcase your products. And interior storage pockets to keep all your valuables in a safe place.
Extra Accessories You Need for Your Tent
The above tents are just some ideas of what you can use at festivals. To personalize them, though, you're going to need various accessories to make them look unique.
One great accessory perfect for festivals is an event light if you're selling products after dark. Having a light, you can turn on illuminates your products so everyone can see the details. Other accessories you might want to consider:
A Free-Standing Rail Skirt
Adding a rail skirt next to your tent brings more visual appeal to a festival. One good reason for using a free-standing rail skirt is to advertise your tent from another angle if your tent happens to be along a walkway.
When attending an outdoor festival, placing any branded visuals at differing angles is a good idea. Sometimes the type of tent you're using isn't quite visual enough if jammed in with hundreds of others.
A Heavy-Duty Stake Kit
The stakes used to anchor your tent are equally crucial for outdoor festivals. Wind could be a big problem and potentially uproot your tent without the use of solid stakes. Get some heavy-duty stakes to ensure the wind doesn't become disruptive. The last thing you want is your tent being tipped over unexpectedly.
Why E-Z Up?
In addition to superior tents and accessories, we can also provide expert custom printing on any tent you choose. Out attention to detail in our printing skills continues to be noted throughout the corporate industry, with many clients coming from Fortune 500 companies.
Contact us at E-Z Up to get the tent you need for your upcoming festival. We have it all for you to make your outdoor festival event more successful than you've ever dreamed.