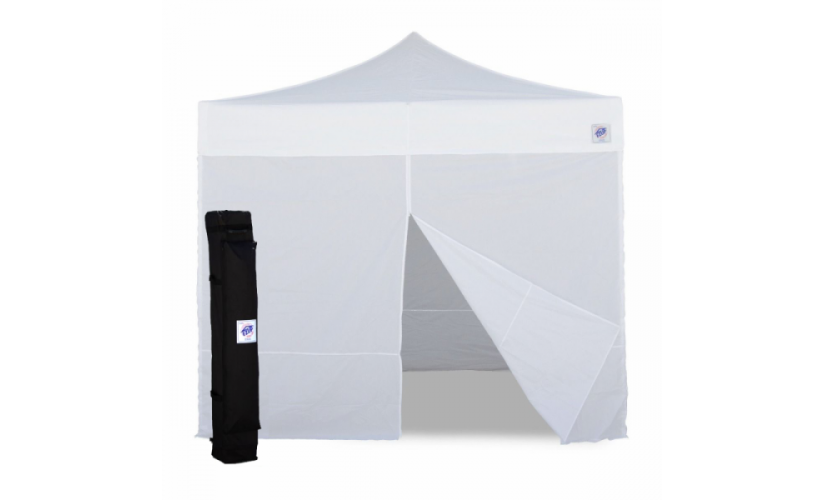 Personalize Your Food Festival Stall Tent
Personalize Your Food Festival Stall Tent
When setting up at farmer's markets, food festivals, and other events, it's essential to have an appealing and eye-catching stall. You're competing with many different vendors, making it necessary to stand out. Choosing the right tent and setup can mean the difference between attracting crowds and having people pass by your stall. Let's look at some ideas and products that can help you attract more customers.
Products and Accessories For Your Food Stall
E-Z UP has many products that will draw attention to your food vendor tent. You can choose the size, color, and style of each item to match your needs.
Shelters
A professional-grade shelter helps to draw traffic to your food stall. It also shields you, your customers, and your products from the elements. Choose among many styles and sizes of customizable shelters. You can also brand your shelter by having your business name printed on it. For even more protection, add a sidewall to your food stall shelter. The following are just a few leading shelters and tents that you might consider.
Event Shelter

— This 10 x 10 shelter provides 100 square feet of protection and is the ideal solution for outdoor events.

Eclipse Shelter

— If you need lots of space, this very popular model provides up to 200 square feet of shading.

Endeavor Vinyl Shelter

— This professional-grade vinyl canopy is one of the sturdiest shelters you can buy, providing 100 square feet of protection.
Umbrellas
A smaller food stall display may not require a full shelter. If you only have one table or only sell limited products, E-Z UP ProUmbrella is a perfect solution.
ProUmbrella Hex Without Valance

— This commercial umbrella has a lightweight aluminum pole and reinforced aluminum ribs to protect your products and shield you from the sun. Available in two sizes and multiple colors.

ProUmbrella Square With Valance

— A valance is convenient for printing your logo or business name. These ProUmbrellas, available in 4 sizes, provide reliable protection from the sun and will call attention to your table.
Tables and Chairs
Every detail of your food stall makes an impression and contributes to the overall atmosphere. Don't place items on an old rickety table. Placing sturdy and professional-grade tables and chairs will make you more comfortable and your items secure. It's always nice to have an extra chair or two so visitors can relax for a few minutes.
Table Covers
High-quality, custom table covers are another accessory that makes your food stall more appealing. Choose from a selection of table covers, throws, and skirts that are the right size and style for your display. Highlight your business name or the name of your featured product on the cover for brand recognition. Here are a few of your choices:
Vendor Table Cover

— Brandable table covers, available in 8 sizes, from 2' x 4' x 24" to 2.5' x 8' x 36".

Instant Table Covers

—Available in 5 sizes and three height options, these covers are made from professional-grade fabric. Custom sewed to ensure a perfect fit. Choose from 22 custom colors.

Table Throws

—You can set up your table in seconds with these sturdy table throws. Available in 21 colors.
Flags and Banners
You may as well make the most of all your food stall space. Another way to call attention to your products and brand is to decorate your food stall with custom flags and banners. Your flags and banners can represent your business, organization, or products. Colorful banners will catch the eyes of passersby and encourage people to check out your offerings.
General Food Festival Stall Ideas to Attract Customers
In addition to having an appealing and professional setup, there are many ways to attract more customers.
Research the Market
Every space is a little different. Don't just show up somewhere and hope for the best. Take the time to scout the area or event. If you're selling at a new space, do your research. Visit a farmer's market the week before you set up. If it's an annual festival, look for a list of vendors at prior events. This will help you scope out the competition and give you ideas on how to differentiate yourself.
Make Your Stall Decorative
People respond to the way food is presented as much as the actual items and ingredients. Be sure that your products are neatly and attractively spaced out. Use attractive plates, bowls, vases, and baskets to display your products. Decorate the stall with photos, banners, plants, flowers, and anything else that fits with your offerings.
Make the Most of Your Food Stall
When you set up at your next food festival, farmer's market, or another event, make sure you take the time to consider your presentation. Some of the E-Z UP products listed above can help you create a professional and engaging display. It's also important to develop your presentation and marketing strategies based on your brand and customers' preferences.
E-Z UP has a large selection of shelters, banners, table coverings, and other accessories to help you attract more customers to your food stalls. To learn more, contact us.