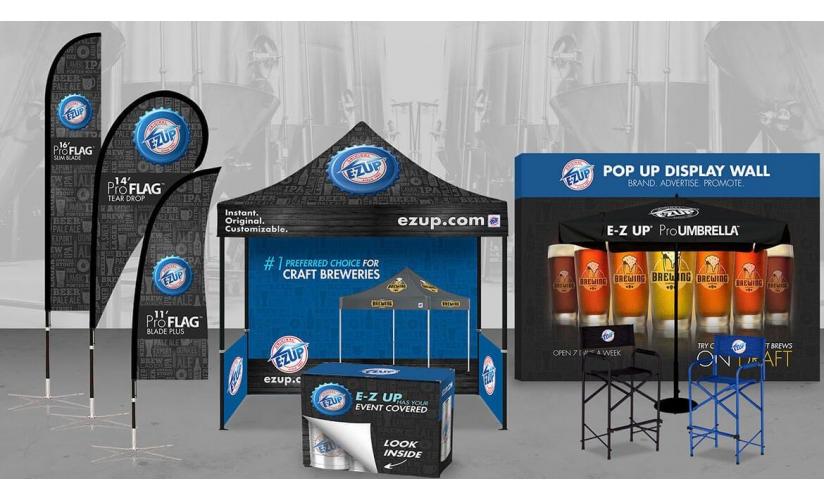 How To Manage Crowds At Events with E-Z UP Shelters and Accessories?
For nearly a year, the world put off event plans and stayed home for virus safety. Companies, organizations, and associations alike hosted virtual talks and encouraged everyone to stay home during the 2020 quarantine lockdowns. But with the vaccine rolling out and travel restrictions lifting, everyone is rebuilding their event schedules for future dates. Soon it will be possible to meet en-masse again for conventions, markets, charity drives, and many other association meetings.
Every significant event that was put off last year is likely planning for the big comeback. The best way to come back strong is to plan for a safe event. As the host, you should make the venue as safe as possible under the still-present precautions. With careful event planning, it can be safe for people to come back together for large meetings and celebrations.
Responsible Hosting in a Post-Corona World
Event planning has always taken guest safety in mind. However, the pandemic last year brought a new layer of event safety planning. Basic safety precautions ensure that we can build a new normal and return to large gatherings of safety-conscious professionals.
Hosting a Safe Event with Shelter Tents
From open field markets to conventions, a shelter tent gives each vendor an elegantly well-defined space and shapes how a space is used. Outdoor spaces provide more room to enforce social distancing. Shelter tents also come with a collection of banners, flags, and other accessories that can be used in new ways to control crowds and promote COVID safety.
Mark Entrances & Exits with Vivid Decals
Window clings, and floor decals are the ideal tools to mark your entrances and exits. Entrances and exits should be marked to guide guests at an event. Exits are a primary safety measure. Regular and accessible exits with visible signage allow quick evacuation in an emergency. Floor decals mark where to stand and are great for enforcing social distancing.
Banners and Flags Provide Direction at a Distance
When planning for a well-spaced event, sign visibility matters. Highly visible signs are the best way to direct guests to the booths and services they need. From restrooms to the food court, banners and tent flags are a great way to provide guests with clear directions from a distance. Even guests tend to crowd booths and move in large groups without thinking about it. Clear indicators help break up that natural grouping mentality and help your guests maintain their own personal safety while enjoying the event. A flag may indicate where to find the start of a line.
Floor Decals Create Paths and Safety Spaces
You can also use floor decals throughout the event space to guide guests where they want to go. Floor decals can help lead people to the food court, registration booth, or first-aid tent. Floor decals laid out from entrances to major locations can help guide guests and prevent incidents of lost confusion.
Widely Spaced Tables and Chairs
Where your guests rest and where they eat both need to be spaces where it's safe to sit mask-free. When guests sit down to eat, drink or rest from the event, your seating areas need to be thoughtfully spaced out. Plan for your tables and chairs to be well-spaced so that each group of guests has their own space.
Railskirts and Tables Direct Crowd Flow
Railskirts are half-walls that can take the place of a sidewall for shelter tents. Railskirts give vendors an open reach and view into the tent but are also excellent for controlling the flow of the crowd. Rail skirts allow vendors to shape their event tent experience and keep their tent sides open while still fully controlling their inner tent space.
Sidewalls Protect Tent Internal Space from Crowds
Sidewalls on your shelter tents give more control to your vendors and provide more crowd control for the event itself. Sidewalls isolate the inside of a tent, both for vendor use and event services. You can create a shaded and sheltered space for guests to rest or keep guests out of vendor space with the same tent sidewall design.
Banners Provide Extra Large Signage
Custom banners are a hallmark of shelter tent-style events. Banners can be strung over the tent entrance or hung on tent posts. A banner sidewall might be the ideal way to share your event policies and safety precautions.
Clear Tent Lighting for Widespread Event Safety
Installing lights on the underside of each tent is another great way to promote event safety. When the sun goes down, often shelter tent events don't want to break up. Your marketplace or convention can continue safely after dark as long as there's plenty of light. Bar lights that clip snugly to the internal posts of each shelter tent are ideal for lighting every tent in the venue.
EZ Up Shelter Tents for Today's Event Planning Needs
Here at EZ Up, we understand the needs of modern event planners. The more people you bring together, the greater your responsibility for providing the right precaution measures. That means clearly posted signs and carefully thought-out venue spacing. Fortunately, we have everything you need to help keep your vendors and guests safe during a tent-style public event.

We can quickly print you custom safety signs, floor decals, and window clings. Enjoy convenient canopy tent accessories like railskirts, sidewalls, and lights that clip easily to the posts. We are here to help you plan a safe event for your community. Contact us to consult on the right shelter tent planning for your upcoming events.