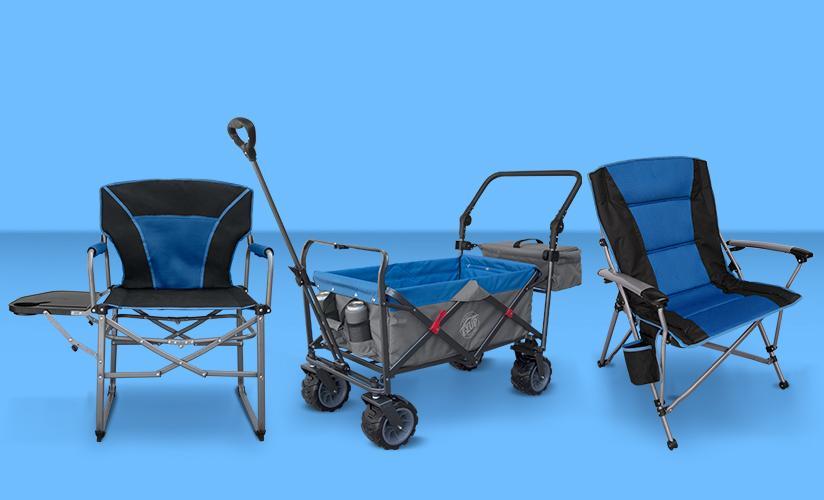 Folding Chair and Wagon For Your Next Outdoor Adventure
Looking to make your next outdoor adventure a breeze? E-Z UP has the products you've been looking for to kick off this summer season! The E-Z UP® AllSport Folding Chair and the Commander Directors' Chair is just what you need to kickstart your outdoor adventures. With E-Z UP's AllSport and Director folding chairs, you can bring your seat with you anywhere you go, whether it's to the park, the beach, or on a camping trip. These chairs are designed for both comfort and durability.
Director Chairs and AllSport Folding Chairs Feature Comfort and Style
These chairs feature a lightweight aluminum frame, so you can carry them easily while providing durability for you to sit without worrying about stability. You'll find that both the seat and back offer extra padding for long afternoons watching your children play sports or days spent at a tradeshow showing off your latest product line. The breathable fabric is ideal for the long summer days ahead of us.
You can enjoy peace of mind when selecting the Commander Director Chair or the AllSport Folding Chair from E-Z UP. E-Z UP offers a one-year warranty to protect your investment from anything that might happen to it. These chairs also come with a 100 percent satisfaction guarantee, and we guarantee that you'll love the construction and functionality of your new folding chairs.
E-Z UP offers multiple designs of its director chairs. You can choose from a variety of models and chair heights. The tall director chair is perfect for seeing above the crowd or for getting noticed by potential clients. The commander director's chair comes with an integrated table with a cup and phone holder for flexibility. These chairs come with a carrying bag and fold easily for storage.
You don't have to worry about adding these chairs to everything else that you need to carry. With E-Z UP GearRunner™ Folding Wagon, you can haul all your items in one simple trip. The GearRunner wagon is a must for businesses and families planning for a fun day out in the sun.
Folding Wagon Designed to Make Carrying Essential Easier
A cool gear wagon solves many of your challenges when it comes to carrying items from one place to another. You can take everything you need and load it into your GearRunner™ Folding Wagon to easily roll your items for your picnic setup or beach trip. These folding wagons are designed for durability and flexibility.
Each wagon features an aluminum frame. The frame provides strength to carry loads without adding a lot of weight. The frame is strong enough to maintain its shape if you bump into things. The fabric of this foldable wagon is strong enough to support your products and essential items. The durable material resists tears and snags while looking fabulous. The corners are reinforced to protect the fabric while you're expanding and folding the wagon.
The wheels and handle designs are lightweight while providing an easy-to-use experience. The wheels glide easily over a variety of surfaces. You can easily grasp the handle to pull or push the gear wagon, making it the perfect accessory for your camping or beach trip.