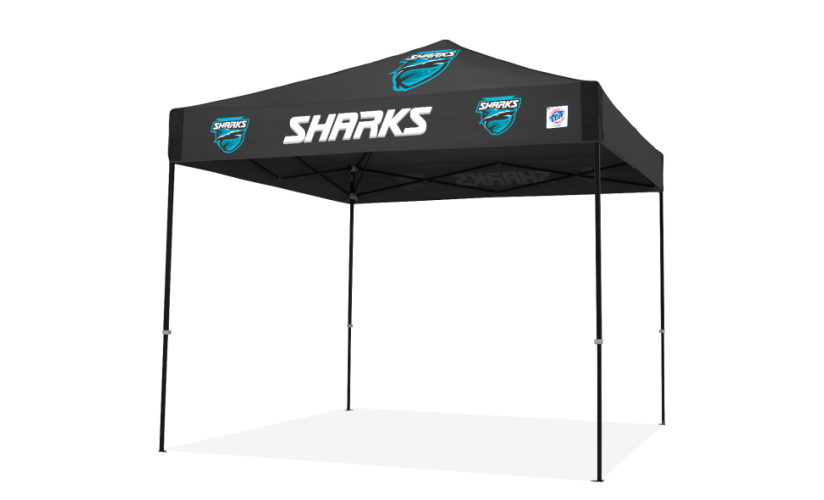 E-Z UP® New Dezign Center
E-Z UP® Instant Shelter remains a leader in the industry as it pertains to quality and innovation. We have consistently provided our customers with ease of use and strength technologies that remain unmatched by our competitors. At the E-Z UP® Dezign Center, we have created a tool for our customers to customize our products to best suit their needs. Whether you are a business owner, event planner, coordinator, or volunteer at an event, we help you bring your design ideas to life.
Why E-Z UP®
E-Z UP® remains a leader in the industry as it pertains to creating easy-to-use, quality tents. We have continually provided different clients, including Fortune 500 companies, with custom tent services to meet their needs and continuously remain a trusted service provider. We have an award-winning in-house printing solution that continues to be a leader in the digital printing sphere. In line with the exceptional services we have in 7 years, we bagged the SGIA Golden Image Awards, making us a certified leader in the field. Additionally, we offer 100% satisfaction to our clients, helping them with free replacement of parts for the first year in all the professional products that we offer.
Additionally, we offer free artwork preparation services which include an offer on unlimited proofing of these services. With the premium printing package, we guarantee premium printing in premium time, which should significantly improve our customers' functionality. As an additional service, we provide fully customized products in 24 to 48 hours, ensuring that all the benefits you get from us are fast-tracked.
E-Z UP® Custom Shelter Tents
New customization ability available on-site allows users to customize their tents. Specifically, these users can customize the color, text, placement of text, font, and images that will be uploaded onto the tents. Using the design center requires that you create and save the particular designs you have in mind.
To get started, you need to select the E-Z UP® product that best suits your needs. Once you have chosen the product, you can customize it to look just right for your business.
To customize the artwork that best suits your needs, provides a color code that best represents your brand. The design team will then check your files and send you feedback on the print quality and logo you have chosen for your tent. When it comes to the message or logos that feature on your tent, we accept most designs. Notably, as a brand, we reserve the right to decline anything that is deemed inappropriate or an unacceptable design.
Why Customize a Tent
Customizing your tent goes beyond the trade shows and the events that your business is in attendance. It has to do with creating a voice for your brand. Specifically, customizing your tent helps you feature your company's logo predominantly. This enables you to distinguish your business from any other business offering services or products similar to yours. Notably, you can use your colors, patterns, and designs, thus ensuring significant brand recognition. Besides, just having a tent acts as substantial protection against the sun and predominant weather, ensuring that you stay functional at whatever outdoor event you might be attending.
Notably, E-Z UP® tents are significantly lightweight. They are easy to carry and put together and, as such, require very minimal tools. Their versatile use is something that most businesses need to consider, especially as they are efficient in hosting open houses at your business premises. Overall, customized tents give you and your business a professional touch. This makes it a viable investment for any business that is looking to carve out credibility amongst competitors.
Going About a Custom Order
When you want to keep track of your custom order, you want to keep track of your automated email and the tracking number attached to it. This should help you check on your product and get updates on the same. If you want to reorder a custom tent, you can easily find it on the recent orders tabs located within the user interface.
Additionally, if you do not have a graphic logo that you are bent on, we have you covered. We have built-in libraries of graphics that you can choose from. Our web designer can help you come up with a custom design for your order. For clients who do not know in which direction their order needs to go, we have expert design teams in place to help you. You will be presented with free artwork which includes raw images of high quality from which you can decide which best suits you. Our expert graphic design team can then review your design for quality assurance, helping you fix any issues and design the order to ensure 100% satisfaction. We also make room for you and your in-house team of design specialists if you want to create the design for yourself.
We want to not only meet your expectation but also exceed them. As such, we have a team of experts in hand to help you customize your tent in a manner that best fits your needs. We take into account your particular instructions and go the extra mile to ensure that we care and maintain your custom order. At E-Z UP®, our team is well-equipped with the pertinent research that pertains to the customization of tents as a tool for marketing. Whether your tent is for personal use or business, we have the prints, colors, and expertise to represent your brand best. We have a worry-free guarantee in place to ensure that you have the shelters, flags, table covers, rail skirts, and tents in place to represent your brand and your business best. Contact our friendly experts and get a free quote today.