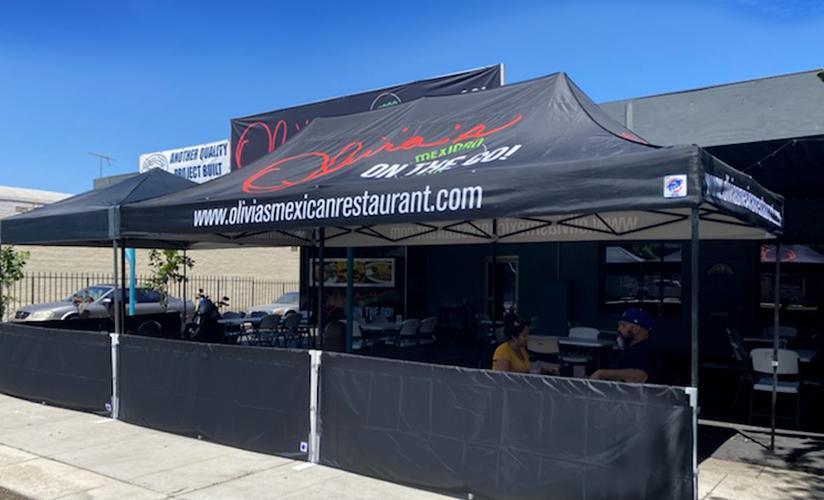 E-Z UP Custom Canopy Tents for Outdoor Dining
Restaurants and other businesses that offer dining options as part of their services have run into many roadblocks this year. The many regulations on indoor spaces for public health have prompted creative solutions and the growth of "al fresco" dining on sidewalks and even along pedestrian-only streets. Creating an excellent dining experience outdoors, however, takes some additional considerations in order to be successful.
Your restaurant has many moving pieces, and you're always looking to convey quality in what you do. You certainly want there to be options for shade in your outdoor dining area, but you also want to know that your canopy coverings are sturdy, easy to open and provide a clean, professional look to the space. This can be hard to do without a go-to producer of personalized canopy tents.
Restaurateurs are discovering the advantages of E-Z UP canopy tents in the outdoor dining space, from the fact that having these canopies up keeps dining areas much clearer and cleaner to the visual appeal of being able to recognize the patio as belonging to a particular restaurant. Having the best-looking patio for outdoor dining in a busy marketplace has become one of the distinguishing features of successful restaurant businesses this year.
Luckily, with custom canopy tents from the original E-Z UP, your outdoor dining experience will be second to none!
The Best Materials and Design to Convey a Quality Experience
E-Z UP is proud to be the originators of the one-piece instant frame canopy, beginning our reputation for innovation in 1983 with our first Instant Shelter. Since then, we've been finding the best materials, the strongest design specifications, and the most aesthetic look for our custom tents.
We stand behind our products 100%, which is why we offer a 100% satisfaction guarantee and replace parts for free on our professional products for the first year.
We believe that creating the perfect outdoor dining custom canopy tents for your restaurant or dining experience should be a positive process that gives you a high-quality product that will function well for you for years to come.
Make Set-Up and End-of-Day E-Z and Fast
We understand that your day in the restaurant business begins early and often ends late, and having to add outdoor dining and new cleaning regimens has only extended that day. That's why the E-Z UP canopy tent you use for your outdoor dining is easy to install and with confidence, even if you need to bring them out for shade when the temperature is rising faster than expected.
If you have varied demands for your restaurant, taking down and putting up an E-Z UP personalized canopy tent is fast, getting your employees back to work serving guests in very little time. These canopies also travel well in sturdy packaging, so if your outdoor dining business involves mobile service away from your home base, transportation isn't an issue. Make anywhere an outdoor dining destination with your E-Z UP Instant Shelter.
Create Your Dining Experience
Whether your dining atmosphere is often boisterous and chatty or quiet and intimate, you can choose E-Z UP canopy tents to facilitate the experience you want. Smaller Bungalow-style canopies, equipped with beautiful and functional curtains, can offer the fine dining experience that you create in a sumptuous dining room lit by candlelight.
Our various larger tents can cover multiple tables with a single canopy and keep the community feel of the dining experience. Our award-winning customer service team would love to direct you to the many types of products we can create that will mesh seamlessly with the dining style of your restaurant, bringing your signature look outdoors to the patio.
Customize Colors and Designs with Custom Printing
E-Z UP is more than a canopy tent business: we have an award-winning custom printing team that creates a variety of products, including the custom print designs on our canopies. When you want your custom tent to stand out on a busy outdoor-dining street, your signature logo can go a long way to drawing in customers and building brand recognition. You can work with our team to create the look you want, using proofs to ensure you're getting exactly the look you expect and desire. All of E-Z UP printing is done in-house at our facility in Norco, California. There's a reason we've been awarded the SGIA Golden Image Award for digital printing excellence seven years running.
Our experience in the industry means we know what kind of canopy materials and printing techniques will stand up to sunshine and the elements, and we use specific fabric coatings to ensure that your design remains vibrant for as long as possible. Potential customers aren't just looking at the sign above your restaurant door these days. They will see the bright and clear logos on your outdoor custom tents as they are making those key decisions about where to go for dinner. When your canopies turn heads your way, you experience the benefits of a bustling and busy patio.
Personalized Canopy Tents To Your Door In Record Time
We've been optimizing the E-Z UP canopy suite of products for a long time, and we're proud to offer our Fast Track service for those who are ready to have the best quality custom tents immediately. E-Z UP handles your custom printing in-house at our main facility in Norco, California. With this premier service, your fully customized tents will be ready in 24-48 hours. E-Z UP also offers a pick-up option for Southern California customers at our Norco, CA location.
We earn our place as the go-to canopy producer for Fortune 500 companies because they know that we don't spare any of the details on our high-quality products even when we're delivering them with lightning speed for just-in-time highly professional use. No matter the size of your restaurant business, turn to E-Z UP for your needs.
Dining guests look for delicious food and prompt service, but they also want to be comfortable even on warm days out on the patio. With custom canopy tents, your dining guests will remember your location as a place where dining outside is a pleasure to be recommended to others.
Ready to learn more about what E-Z UP can create for your personalized canopy tent needs? Contact us today and experience the E-Z UP advantage as you find custom canopy tents for your outdoor dining service!