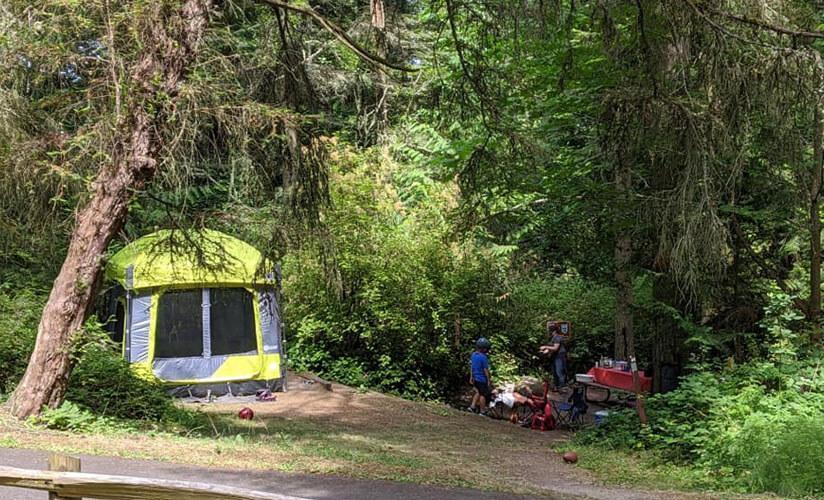 Create a Better Family Camping Trip | Tips & Accessories
Heading out to the great outdoors to enjoy the sunshine and experience magical nights under the stars has been a favorite pastime for families for generations. If you're getting ready to go camping with your family and enjoy the simplicity of nature, be sure to take your time to plan and prepare for the family camping trip adequately.
Many camping enthusiasts can attest that there are few things more relaxing than spending time in the great outdoors – unless you forgot to bring a fire starter, toilet paper, or bug protection. Nothing makes family members bond better than sharing stories while sitting around a campfire – as long as they can't get the fire started in the first place!
Whether you're going camping in the woods, near a lake, or in a national park, spending time in the outdoors can be a fantastic adventure. As with many family outings, this is usually only if you come prepared! Typically, an amazing or an awful family camping experience comes down to one thing – how you planned or prepared for the trip.
How to Create a Better Family Camping Trip
The following are the three things to get right in order to make your family camping trip the best it can be:
1.
Logistics
The first step is to decide what family camping experience you want. What do you want to do, exactly? Answering this question will dictate where you should go, and what you should look for in a campsite. Some of the aspects to consider include:
Activities: Do you want to go biking? Hiking? Fishing? Rafting? Choose a campsite with easy access to your favorite outdoor activities. Being a family camping trip, you should choose campsites with playgrounds and kid-friendly places nearby.

RV or tent: Will you be tenting, or do you have an RV? If you have an RV, be sure to search for a campground with big enough space for your vehicle.

The number of campers: Consider the number of family members that will go to the family camping trip. If you're a small group, a single campsite will do. If you're a larger group, you should choose a big enough campsite where everyone's expectations will be met.
After determining what you want out of your family camping trip, the search for an ideal campground begins. You can ask your family members or friends for suggestions, or you can check out campground websites. Once you find a suitable campsite, call them directly to check availability and to get your questions or concerns addressed. Choose the most convenient dates and reserve your spot.
2.
Meal Planning
A hungry camper is an angry camper. If you go on a family camping trip without proper meal planning, you'll realize how true that statement is.
Unlike at-home meal planning, at-camp meal planning tends to revolve around quick prep times and minimal storage needs. You want to bring ingredients that take less time to cook, yet yield enough meals to provide enough fuel to keep you going through your outdoor adventures. You also want to pack food items that won't go bad if there isn't enough ice for cooling.
Meal planning for family camping trips should also revolve around the idea that grocery stores won't be nearby for additional supplies. Prepping a few things at home will save you time and effort in the outdoors. For instance, you can slice meat, chop veggies, and cut fruits at home. Don't forget to bring cooking items, including utensils, pans, pots, knives, fire pit, or camping stove.
3.
Gear
Whether you'll be heading to a safe campground or into the wilderness, you will need to pack your gear. The following are the things to pack:
· Shade tent
Even though the appeal of camping outdoors is the freedom to be up-close with nature, you still need some form of shelter. Being exposed to the hot sun, cold rain, or strong winds can have serious health implications. As such, you need to bring some form of shelter to ensure that your family is adequately protected.
Shade tents are among the essential gear for providing shelter. A shade tent, such as the Vantage™ from E-Z UP, will protect your family and your possessions from harsh elements and bad weather. Relaxing or sleeping under the pop up camping tent will make your stay at the campsite comfortable during rainy conditions or on really hot days. The Ambassador™ provides 100 square feet of shaded area, which makes it an ideal choice for family camping trips.
· Screen tent
You don't want to sleep with the crickets, mosquitoes, spiders, and other irritating insects buzzing around, right? Then be sure to bring a screen tent or cube with you. Besides keeping insects and rodents out of your sitting area, a screen cube offers some basic weather protection.
While relaxing under a screen tent such as the Screen Cube™ 6 from E-Z UP, you will be protected from direct sunlight, and you won't have critters and rodents keeping you company. This screen cube is 100% bug-proof, as it features a fully-enclosed insect-proof ceiling, walls, and floor. Once set up, it transforms into a convenient camping screen room that provides maximum protection from the elements and bothersome insects.
· Camping cube
When camping with family or friends, there are instances when each one of you will need some privacy. When slipping into a bathing suit or changing clothes, camping cubes provide much-needed privacy.
The Camping Cube™ 6.4 from E-Z UP is an excellent camping cube that provides maximum privacy while in the outdoors. It's spacious and has an oversize entry door. It's also easy to set-up and enables you to turn your campsite into a camping haven without a hassle.
Why You Should Buy E-Z UP® Camping Gear
Family camping trips don't have to be stressful, as long as you are prepared! To get started, you need to choose a reputable and reliable camping gear vendor.
E-Z UP is the premier vendor for shade and screen tents for camping. There are several aspects that make them stand out from the competition, including:
They provide high-quality products: One of the challenges that most campers face is ending up with poor-quality gear that deteriorates quickly after a few uses. E-Z UP beats the competition in terms of quality, as all their camping products are of high quality and durable.

Their camping tents are easy to set up: Nothing is annoying as a tent that has complicated instructions for set up. The good thing about E-Z UP tents is that they are designed with a Do-it-yourselfer in mind. You won't have to break a sweat when setting up one.

Their camping systems are sturdy: Many companies provide flimsy tents that get fall apart during strong winds. E-Z UP tents feature sturdy legs and glide truss washers that provide increased stability.


They offer some of the most comprehensive and competitive warranties in the industry - 3 years on the camping cube and most recreational shelters, up to 7 years on professional model shelters.
As the leader in the industry, E-Z UP has what it takes to create high-quality, durable, and easy-to-use camping solutions. Their attention to detail, custom in-house printing, and outstanding customer service have made their products highly trusted and utilized by many Fortune 500 countries. They not only provide shade and screen tents for camping, but they also provide other great camping accessories, such as gear bags, clips, weight bags, and more.
Shop E-Z UP camping products today!