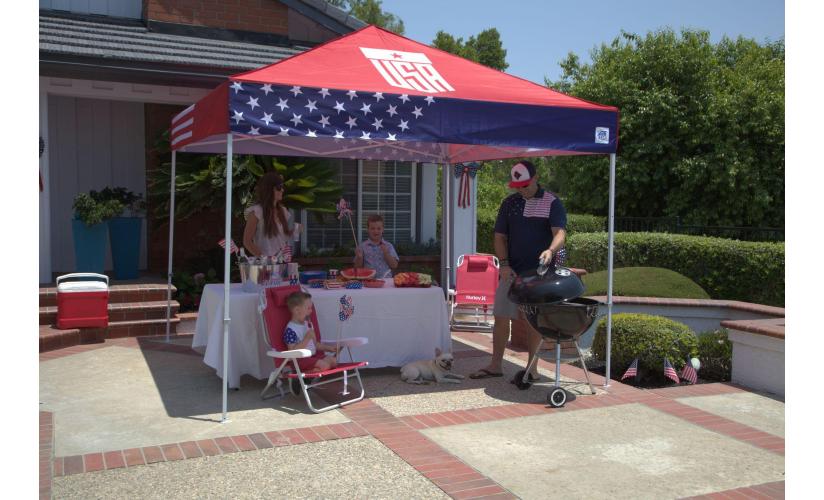 Celebrate The 2021 Fun-Filled Olympics With A Patriotic Tent
With the Olympic Games about to commence in a few weeks, it is time to get excited about the event dubbed "The World's Greatest Show." Nothing beats the thrill of watching our hometown athletes compete on the world stage in front of millions of people worldwide.
However, the 2021 Olympics are different from the preceding events due to the ravaging COVID-19 pandemic. To reduce the transmission of the virus, Japan has imposed a lockdown that will run from July 12th to August 21st, which is the entire period of the Olympics.
Spectators, both local and international, have been banned from attending the Tokyo Olympics. But that's not stopping fans from supporting their favorite sport from the comfort of their own home. With a patriotic USA custom shelter tent, fans can cheer their favorite players during the Olympics.
Why Celebrate the Olympics With a Patriotic Tent?
The Olympic Games are a great time to show your patriotism and spirit as you watch the top athletes worldwide compete against one another in various sports, including water polo, gymnastics, fencing, and swimming.
A customized tent sets you apart from the crowd and makes it possible to get noticed by other people. Customized tents highlight any event and are likely to attract a lot of attention from your fellow citizens.
As such, you may want to get your tent customized with the American flag, or favorite sport at the Olympics when watching the games.
A personalized canopy gives you a spirit of togetherness as you sit with fellow fans cheering on the athletes together in your patriotic tent. This is an excellent way to bond with people from all walks of life and share valuable moments that will become lifelong memories.
Get a Custom Canopy from E-Z UP
If you are after a unique way to celebrate the Olympic Games in Tokyo, E-Z UP canopies are the perfect option. Patriotic shelters at your Olympic watch party are a great way to show your patriotism and unity as you cheer on Team USA during the games.
To shield you and your family and friends from adverse weather conditions, you need a high-quality custom USA shelter.
In addition, E-Z UP shelters come with a durable steel frame and high-quality fabrics that will withstand even the harshest weather conditions. E-Z UP fully customizable canopy comes in different sizes to meet your needs and preferences while ensuring optimum space for you and your loved ones.
Custom Tents at E-Z UP
E-Z UP tents come in different sizes; therefore, it is easy for you to choose which custom shelter will best suit your needs. Whether you want a small folding tent or a large pop-up tent, E-Z UP has just what you need to ensure that the Olympic Games remain fun-filled even without being physically present at the venue.
With the new E-Z UP Vantage shelter, there's more than meets the eye! Upgraded with a stylish gray frame and improved durability, it can withstand both windy days at outdoor events as well as make your message stand out. Its versatility makes it perfect for the Olympics by printing custom graphics on it.
With the Express™, branding and customization are more affordable than ever! The newest addition to our E-Z UP line is a lightweight aluminum shelter ready for a heavy workload. 10' x 10' Instant Shelter® Canopy has hexagonal legs with high-quality features like never before seen on any other canopy in this size range. It's available as either a Commercial or Sport top — perfect for commercial use or personal space alike!
The Custom Eclipse™ tactical shelter is an upgrade from the classic Eclipse — featuring an innovative tri-leg frame configuration with a retractable DAC tension band system and a large, lockable center compartment. This feature-packed 10' x 10' modular shelter is perfect for sporting events, trade shows, races, or other outdoor promotional events. A custom printed graphic keeps your brand in front of the activity, making this one of the most versatile shelters on the market today.
What Makes E-Z UP Unique?
With the consistent introduction of ease of use and strength technologies, E-Z UP continues to lead the industry in quality and innovation, unmatched by our competition. As such, we have amassed a vast customer base for the following reasons:
As top leaders in the industry, we know what it takes to create easy-to-use, instant solutions with innovation and quality in mind.

Attention to detail, custom in-house printing, and exceptional service have made our products highly trusted and used by Fortune 500 companies.

Awarded SGIA Golden Image Award Winner for digital printing excellence seven years in a row.

The E-Z UP Experience guarantees you 100% satisfaction, free replacement parts on professional-grade models, and artwork prep services.

We have also

launched a design center for our customers

to personalize their tents directly on the site for specific tents.
Get Your Customized Tent Today
With the Olympics, just a few weeks from now, a custom canopy shelter from E-Z UP will help you stand out as your cheer on Team USA. Our award-winning printing experts will customize your patriotic tents with your desired print colors, USA flag, the Olympics logo, or your favorite game at the Olympics. Get in touch today.