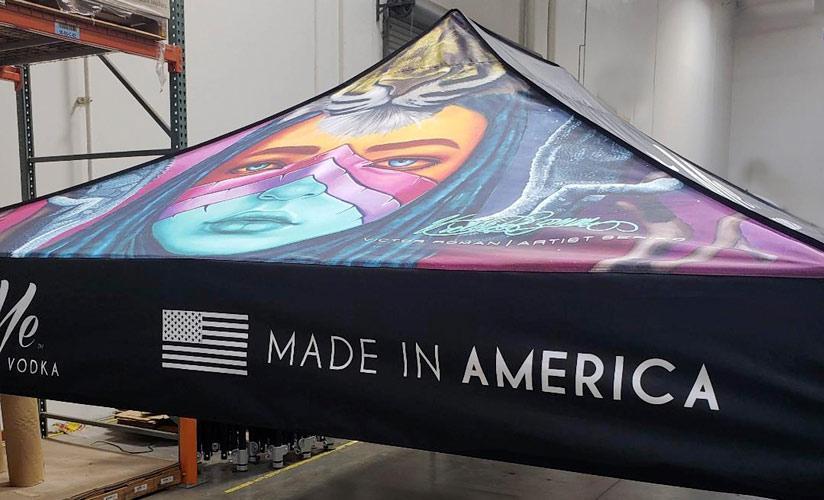 Enjoy the E-Z UP Experience: Award-Winning Custom Printing
For nearly four decades, E-Z UP has helped businesses, non-profits, and individuals across the country stand out with its award-winning custom printing services. And the company's one-day turnaround means your branding campaign can move ahead at lightning speed.
E-Z UP's claim to fame may be our custom-printed shelters, but we offer a full array of personalized window clings, flags, floor decals, banners, and more to meet your branding needs. We also are filling the need for custom printed popup for health care providers and companies doing employee health screenings during this time.
Custom Printed Shelters To Fit Any Need
Whether you've had to shift your operations to offer outdoor dining or curbside pickup, E-Z UP offers the greatest options to meet your needs. And once you're on the road again for your next trade show event, E-Z UP offers custom pop up tents to help your brand stand out.
Our popup comes in standard square sizes from 5x5 feet to 16x16 feet, in horizontal designs up to 10x20 feet, or a 15x15 feet hexagon-shaped tent. You can also choose from 19 fabric colors, plus adding your own custom design to create a truly unique look for your brand.
You can provide your own artwork or collaborate with our team of professional designers to craft the perfect finish. We also have the capability to "bleed" designs to the edge of the fabric so your design is limited only by your imagination.
A basic shelter includes an overhead canopy of various designs, but you also can add partial to full sides to enhance your shelter's ability to attract attention or provide privacy, whichever meets your needs.
Your satisfaction is 100 percent guaranteed or your money back. E-Z UP professional-grade custom shelters are guaranteed for up to a year to get free replacement parts if something should go awry. E-Z UP also backs their shelter frames with up-to a 7 year warranty.
Meeting All of Your Canopy Promotional Needs
Of course, we realize a shelter won't be the only custom-printed item you need for your promotions. E-Z UP offers an expansive line of promotional products plus accessories for your custom shelters.
A pop-up display wall might be the perfect combination of eye-catching and easily-transportable. E-Z UP offers two sizes of pop-up display walls (7'5"x8' and 7'5"x10') that are built on an accordion frame that can be folded and unfolded in minutes and lightweight to transport in the included carry bag.
Director's chairs, tables, and table covers also add to your brand image. Economical Grab & Go table covers can match your company colors or you might want to customize your table covers or skirts to emphasize your brand. We can even provide monitor covers if you have visuals you want to show off out in the bright sunshine.
Flags provide another great option for promoting your business, whether you're in a fixed location, setting up at various locations around town, or traveling the globe for trade shows and events. You'll be sure to attract attention with your branded teardrop flags, blade or slim blade flags, or corner flags that pair with your custom tent.
Custom banners are another excellent way to promote your business at outside events or alert passers-by to services you are offering in your business, whether it's carryout, curbside service, or even in-premises services.
Floor and window clings have become ubiquitous during the pandemic as we all become accustomed to social distancing and curbside service, but customizing your signs also is a great way to keep your brand top-of-mind. And these concepts will carry well beyond pandemic times as customers will get used to looking for window signage and custom floor decals to know what's going on with your business.
What Makes E-Z UP Stand Out?
E-Z UP has leaned into technology to meet its customers' needs since Mark Carter invented his first Instant Shelter in 1983 and has grown into one of the dominant custom printing and manufacturing companies in the world. E-Z UP provides products to more than 100 countries with manufacturing and distribution facilities around the globe.
Three out of five Fortune 500 companies rely on E-Z UP custom shelter printing during their promotion campaigns, including nine of the top 10. You might recognize a few of the names on the client list, such as McDonald's, Ben & Jerry's, Starbucks, Under Armour, Diet Coke, and Walt Disney. Non-business industries such as the U.S. Air Force, National Guard, and American Red Cross also depend upon the reliability of E-Z UP shelters. Even with such giant national brands on-board, E-Z UP provides the same commitment to service for individuals or small businesses that have a need for promotional products.
Free artwork prep services and unlimited proofs are one way small businesses can greatly benefit. No minimum order is required, so you can start small and grow as your business expands. That comes on top of the 100 percent satisfaction guarantee and free replacement parts for one year on all professional products.
E-Z UP also offers fully customized products, from custom printed popup to floor decals, in 24 to 48 hours, meaning your business doesn't have to wait weeks or months to get your promotional campaigns off the ground and into your customers' minds.
E-Z UP's commitment to digital printing excellence is reflected in the fact the company is a SGIA (Specialty Graphic Imaging Association – now known as PRINTING United Alliance) Golden Image Award Winner for digital printing excellence for seven years running. E-Z UP also offers a pick-up option for Southern California customers at our Norco, CA location.
Get Started Today – Be in Business Tomorrow
As businesses and nonprofits bounce back from the pandemic, finding the right partners to help elevate your entity will be vital.
E-Z UP has weathered many economic storms over nearly four decades and helped many companies build their brand with the highest quality promotional products and excellent customer service. E-Z UP is positioned to do the same again for companies large and small as we pull together to defeat the virus and rebuild our economy.
Our award-winning team of custom print experts can guide you to the perfect solutions to build or rebuild your business to what only you can dream it to become.
Contact us today and start your new promotional efforts tomorrow!